Check out the following steps to know the procedure to transfer your domain from GoDaddy to Hiox India.
Step 1: Get the auth code for the domain name you wish to transfer from GoDaddy. That particular domain should be unlocked from GoDaddy.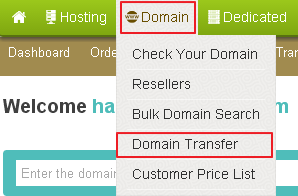 Step 4: Enter your 'Domain Name' and 'Auth code' which was provided to you by your existing domain provider and click on Domain Transfer Only.
Note: If you want to transfer domain with hosting combo, you can click on 'Transfer + Hosting Combo'
Step 5
: Select the number of years and click on
Domain Transfer Only
to transfer the domain. You can also choose the combo package for domain transfer and pay accordingly.

Step 6: Finally, you will be redirected to the payment page where you can pay accordingly to complete the Domain Transfer process.