How to Create a Mail Backup using Plesk Panel?
The Backup manager of Plesk Panel allows you to create a webmail backup in simple steps. The below given step by step procedure will guide you through the whole process of creating a mail backup easily.
Steps to Create a Mail Backup using Plesk
Step 1: Login to your Plesk Panel with your user name and password.
Step 2: Select Backup Manager which is in the right side of the Plesk home page.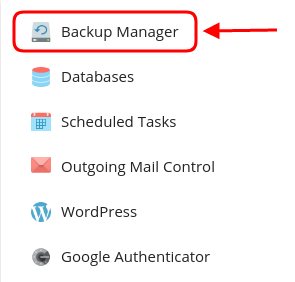 Step 2: Select Backup under the Backup Manager window.
Step 3: Under the Backup Content portion, enable Mail configuration and content by checking the corresponding checkbox and choose type as Full.
Step 4: Now, click on OK to initiate the mail backup download process.


Step 5: Once after the completion of backup process, you can see your mail backup created along with the date and time. Click on the Download icon to proceed.
Step 6: Click on OK to confirm your download. To encrypt passwords contained in backup, enable the Use Password Protection option.

Step 7: Now, you can see your downloaded web mail backup contents in your local storage.
How this faq is helpful: