How to create DSN for MSAccess Database in plesk panel?


How to create DSN for MSAccess Database?

Follow the below steps to Create DSN for MSAccess Database.

Step 1: Login to your Plesk control panel.

Step 2: Click on the ODBC icon.

Step 3: Now click on Add New ODBC DSN icon under the 'Tools' category.




Step 4: In the new page, enter the Connection Name and fill the DSN name in the 'Driver' option. Then choose the Microsoft Access Driver and click the Ok button.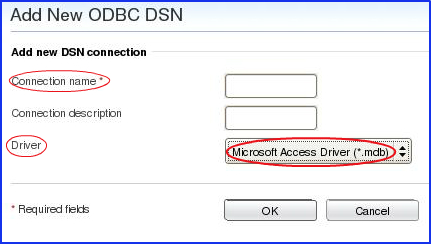 Step 5: Then in the new page named Set Up an ODBC Connection, add 'File Path' of the database. Enter the complete path (c:inetpubhostsdomainname.comhttpdocs ile or foldername) in Database file path option.




Step 7: Now click on the Test Connection.




Step 8: If the connection is successful, click on Next button.

Step 9: Finally, click on the click on Finish button.


How this faq is helpful: