how to install plesk?
Step 1:
If you would like to try Parallels Plesk Panel, you can get FREE 15-day trial license for Parallels Plesk Panel here:
http://www.parallels.com/products/plesk/trial/
Note - You will get license key in .xml file to your registered e-mail account
Step 2:
Download Parallels Plesk Panel installer
http://www.parallels.com/download/plesk/installer/
Step 3 :
It will downloads the application (installer).
Step 4 :
Dobule click on the downloaded ai installer and click on Run, after it will automatically execute it and open terminal.
Step 5:
It will automatically open in new browser http://localhost:8447.
Enter the Login name as Administrator [If you are login with the user Administrator ], then enter the same Administrator password with you are connected to the server.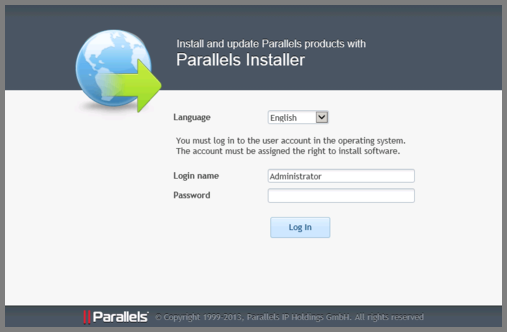 Step 6:
After login, you will see the Install & Upgrade Product, click on Install or Upgrade Product and proceed
Step 7:
Now the installation will begins , check the box Parallels Plesk Panel and the installation version from the drop down menu. Select the Installation type from the drop down menu, here you will see following three options, select you feel the best.

Typical: Install only the necessary components.
Full: Install all the components.
Custom: This Custom components selection. Recommended only for the experienced users.
After check the two boxes Previews components selection and click check box I would like to help Parallels make even better products by sending information about installation, upgrade, and other problems. and finally click on Continue:
Now, select the components that you want to install and click on the Continue.
Next page, you only need to enter the password for parallels plesk panel and then need to click on the Continue.

After that it will automatically starts the installation process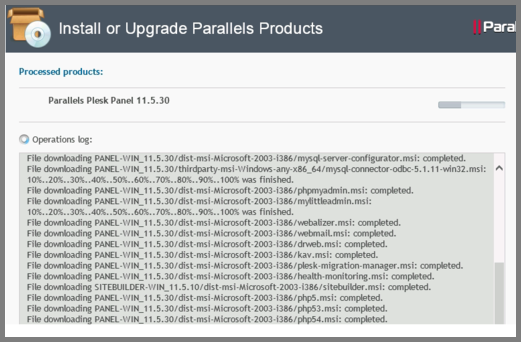 Step 8 :
Once the installation finish, then you can see message All operation with products and components have been successfully completed, then Click ok.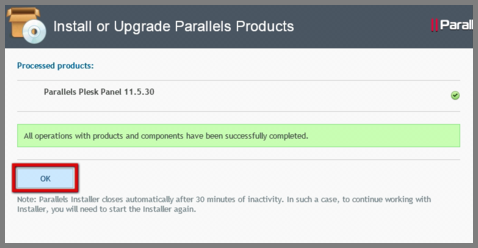 In next page you can you can Add/Remove components.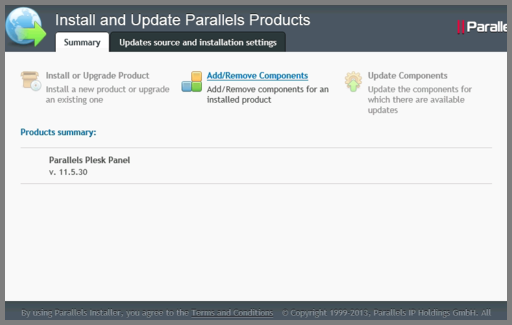 Step 9:

Now, you need to login the following URL:

http://localhost:8880 OR http://localhost:8880/login_up.php3

Username: Administrator

Password: Enter same Administrator password with you are connected to your server (or) Enter the password which you given in while installation.

Note: If you change the RDP Administrator user password then it will automatically updated.

Step 10:

Click Check box Agree to terms of the license. Click the Accept.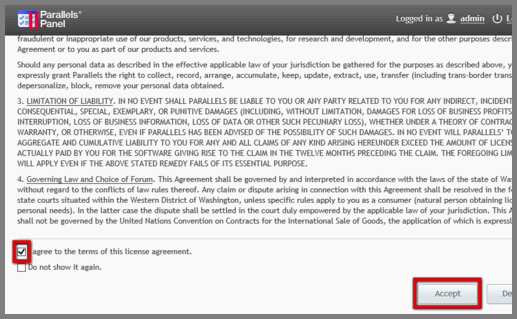 Step 11:
Here you need to enter the full domain name of your server, Example: hostname.domain.com and need to select your server dedicated IP address/s and click Add.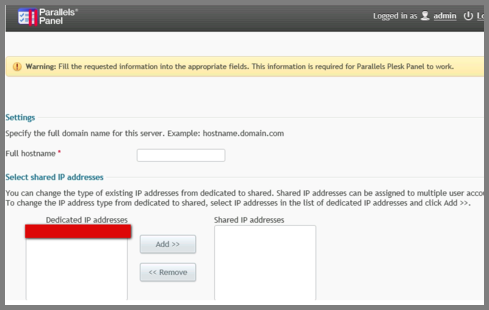 Also you need to change the password to strong one for the security purpose as this URL will be accessible in all ISP network.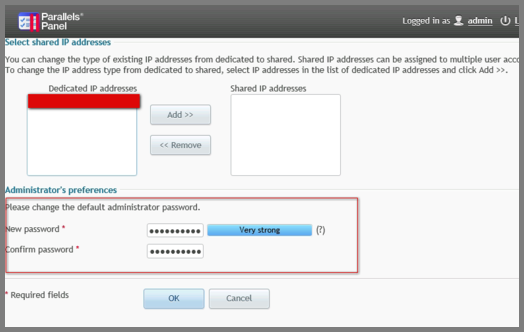 Step 12:


Here, you need to check the radio button to describe for what purpose of server going to use.

Step 13:

After that you need to select any one of the following radio button option:

Power User view This view is for enabling a single, simplified interface for server administrators to manage their own websites, e-mail accounts, and other services. (It cannot be used for customers or resellers on existed in Panel)

Service Provider view This view is can be used by the server administrator, resellers, and hosting users. It also includes an integrated billing system for automatically invoicing and charging your customers account in panel.

Note: There no possible to change view in service provider view to Power User view, if resellers or customers are existed in Panel.

Step 14:

After that, you need to fill the required details:

Step 15:

Then, you will be asked to enter the details for your website and webspace to manage hosting mutiple websites.

Step 16:

Once you installed and configured the Parallels Plesk Control Panel successfully, then you can see the active page as like below




Step 17:

In plesk control panel,you can create websites, email accounts, database, and you can manage everything easily over the panel.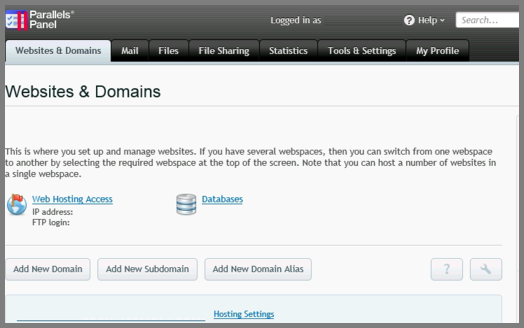 How this faq is helpful: