When SSL will be Active?
Step 1: Login to your Hioxindia Client Account.


Step 2: Goto Orders -> My Invoices -> Choose the Domain Invoice

Step 3: You may find your SSL certificate status below your domain name or below your billing details.
Your SSL invoice status will be updates from 1 to 4.

Number (1) indicates that SSL is in CSR Certificate Creation phase.
Number (2) indicates SSL is waiting for enrollment.
Number (3) indicates SSL is pending for verification.
Number (4) indicates SSL certificate has been successfully generated.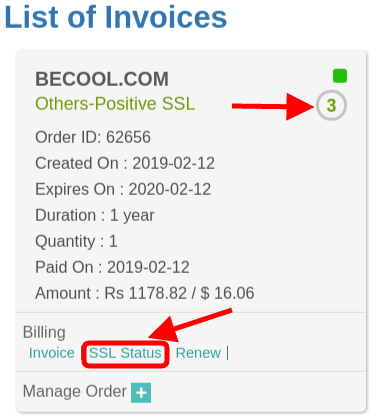 Step 4: You can also click on the SSL Status option to check the SSL certificate status. As per the above picture, the SSL is in status3, which indicates it is in pending for verification phase.
Step 5: You can also check your SSL status by browsing your domain name in the browser. If your website is redirected with the https:, then your SSL is in active status.
Step 6: In case, even after activation of your website is not redirected with https:, then contact our technical support team at support@hioxindia.com.
How this faq is helpful: