Step 2: Click on the Server Configuration menu in the top left hand side of the WHM panel. Now, click the Change Root Password menu which lies beneath it.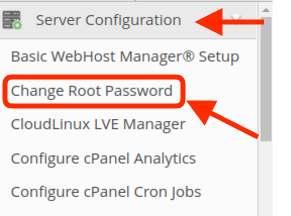 Step 3: You will be directed to Change Root Password page. Here you can enter a new root password or you can also use the Generate option to generate a strong password which meets the system requirements. After typing a new password or generating a newer one, confirm it by re-entering the same password in the Confirm Password box.

Step 4: Finally, click Change Password to save the changes.